Today is International Apostrophe Day!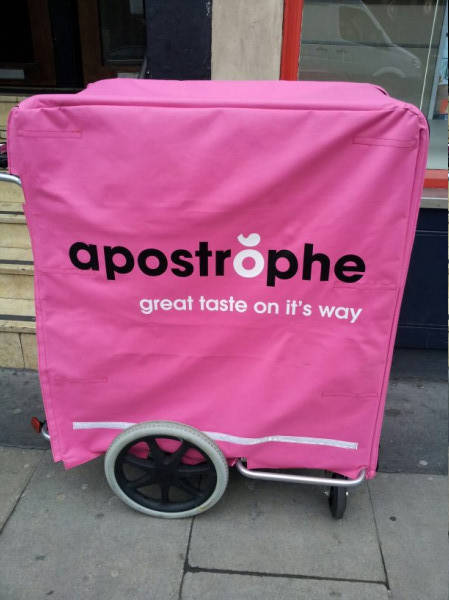 As Sam Tanner tweeted earlier this morning: "An apostrophe is the difference between a business that knows its shit and a business that knows it's shit."
Here's a round-up of apostrophe news and celebrations on its auspicious day. (This particular awareness day was conceived last year by The Guardian's production editor, David Marsh.)
"To those who care about punctuation, a sentence such as "Thank God its Friday" (without the apostrophe) rouses feelings not only of despair but of violence. The confusion of the possessive "its" (no apostrophe) with the contractive "it's" (with apostrophe) is an unequivocal signal of illiteracy and sets off a Pavlovian "kill" response in the average sticker." — Lynne Truss, Eats, Shoots & Leaves
The Huffington Post looks at 22 Disastrous Apostrophe Fails
Pinterest devotes a page to apostrophe crimes
The Oatmeal reminds us how to use it
The Guardian publishes a cartoon by its late, great David Austin
The Independent publishes an apostrophe quiz
The Drum identifies five advertising fails (involving the apostrophe)
Macmillan Dictionary looks back at a notable apostrophe obituary from 2012
The Toronto Star gives punctuation advice from a pro wrestler [sic]
Stan Carey tweets another cartoon
There's Apostrophe Abuse: a web site devoted entirely to just that. And another one for Apostrophe Catastrophes. But have no fear, apostrophe-lovers: the Apostrophe Protection Society has your back.
There again, not everyone loves the apostrophe — even when it's used correctly. As Peter Harvey says on his blog, Lavengro: "Apostrophes in English are a menace and should be abolished.
"I'd rather fiddle with my phone for precious seconds than neglect an apostrophe; I'd rather insert a word laboriously keyed out than resort to predictive texting for a – acceptable to some – synonym." — Will Self
And finally, a quote from the master himself:
"You find not the apostrophas, and so miss the accent."
— Shakespeare, Love's Labour's Lost