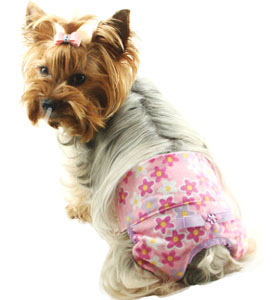 Is she on heat or in heat? Depends whether she's wearing a nappy or a diaper… 
In my work as a publicist, one of my most frequent questions to journalists is: "Would you like to talk with Mr. or Ms. Musician"? My British instinct is to suggest that they talk or chat to someone: that's what we do in England, and not just when we're telling someone off. But this turn of phrase does have a reproachful or condescending whiff about it; there's even a corresponding noun — you give someone a "talking to" when you're reprimanding them. The American preposition of choice in this instance — with — lends the conversation a much more egalitarian air, and even Brits are now beginning to talk with rather than to each other, especially if they're trying to be more politically correct.
It's amazing what a difference a little preposition can make. Here are some more examples of Brit-prep-Ameri-prep that keep us at prepositional odds with each other.
Different from is cool on both sides of the ocean. "That Londoner is no different from that New Yorker." However, Justin Bieber would claim that his haircut is different than Miley Cyrus's do, whereas Downton Abbey's Dowager Countess would be the first to point out how different her manners are to those living down below stairs.
*   *   *
David Beckham's sons probably play football in their school team; one of Andy Pettitte's sons, Joshua, was invited to play on a famous team – the Yankees.
*   *   *
Prince rocks out on, over or during the weekend; Prince Harry just parties at the weekend (as well as during the week…).
*   *   *
One of Her Majesty's corgis is on heat; the Obamas' Bo is checking out the bitches in heat…
*   *   *
I'm planning to enrol on the British Airways fear-of-flying course; pot-growers have enrolled in Oaksterdam University, America's first cannabis college.
*   *   *
Kanye West and Kim Kardashian named their daughter either for her dad's sense of direction or after the airline on which you used to fly smart; Prince George was named after one of his royal ancestors (probably not the mad one).
*   *   *
Benedict Cumberbatch can safely describe the character of his TV detective as the opposite to Idris Elba's, and Luther is the opposite of Holmes; Columbo is the opposite of — and only of — Law & Order's Detective Benson.
*   *   *
Stevie Wonder just called — at my office number; Mick Jagger, when he missed me, tried to call me on my number.
*   *   *
David Cameron, as well as being Britain's Prime Minister, is the Member of Parliament  for Witney, his local constituency; Barack Obama, before becoming President of the United States, was a Senator from Illinois.
*   *   *
And more informally, but increasingly: Taylor Swift is probably really excited for the Grammys; nominee Sir Simon Rattle is no doubt excited about them…
*   *   *