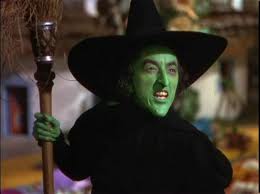 Continuing Glosso's series of "X v Y", here's a look at the difference between that and which.
Many people don't understand the difference between "that" and "which", which aren't interchangeable as is commonly thought. "That", which isn't preceded by a comma, qualifies or identifies the noun preceding it, pinpointing which one of two or more nouns is being referred to. "Which", which is preceded by a comma (at least in this clausal context), simply adds extra but non-identifying information about the preceding noun. A good rule of thumb is this: if the that/which clause can be taken away and you still understand the reference, it must be a which. If you take it away and you're unsure about which one it is, it must be a that.
Rich and Pat are at the fair, which has a game that gives witches as prizes.
"I want that witch!" says Rich. "Which witch?" says Pat. "The witch that has a green hat?" asks Pat. "No, the witch that wears the black hat, which is flat," says Rich.  "I want that witch that has a black hat, which witches wear." "Oh," says Pat. "That witch." "Give us a bob, Pat," says Rich.
First posted March 2011.