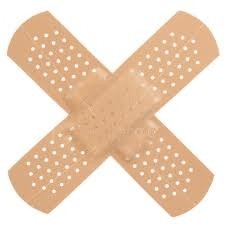 Day 2 of Glosso's popular evergreen advent calendar, "Baubles of Britishisms". Each day, leading up to the quintessential British day of rest and relaxation ("Boxing Day"), you'll open a window to the world of quirky Brit-speak.
***
In the wars.
"Allen is back on the field with his head wrapped up in bandages. He has certainly been in the wars lately after also being smashed in the face by Fellaini in the Belgium vs. Wales game, but this latest wound doesn't seem to be bothering him too much." — Sports Mole, 23 Nov 2014
"In the wars? The 62-year-old seemed to be sporting a fat lip perhaps the result of his daily boxing classes." — Daily Mail's picture caption describing Mickey Rourke
To have injuries to many different parts of the body, or multiple health problems. Often used ironically to describe someone with minor injuries. As WiseGeek explains, it originally referred only to soldiers who had literally been in the wars, but now it's for anyone feeling a bit sorry for themselves because of ailments large and small.