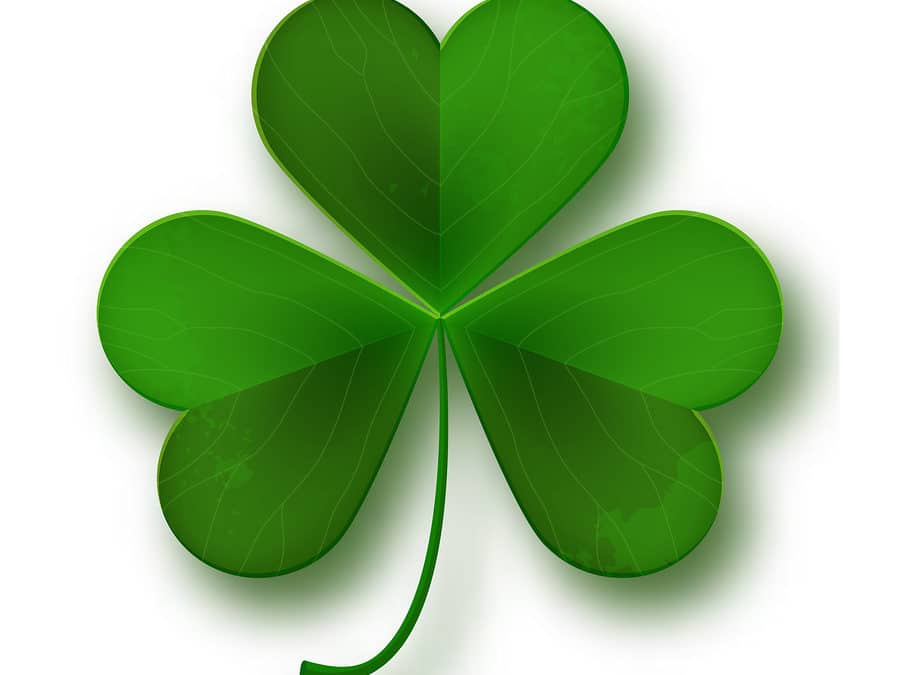 Another favorite from the Glosso archives, posted again to celebrate St. Patrick's Day. What do galore, slew, hooligan and boycott have in common? Glossophilia celebrates 13* colorful words in common English usage that we got from the Irish.
Banshee: in Irish folklore, a type of female fairy believed to foretell deaths by singing in a mournful, unearthly voice, 1771, from the phonetic spelling of the Irish bean sidhe ("female of the Elves") from bean "woman" + Irish sidhe (Gaelic sith) meaning "fairy" or sid meaning "fairy mound".
Boycott: From Irish Land League ostracism of Capt. Charles C. Boycott (1832-1897), land agent of Lough-Mask in County Mayo, who refused to lower rents for his tenant farmers. Quickly adopted by newspapers in languages as far afield as Japanese (boikotto). The family name is from a place in England.
Brogue: A type of Celtic accent, 1705, perhaps from the meaning "rough, stout shoe" (made of rawhide and tied with thongs), of the type worn by rural Irish and Scottish highlanders (1580s), via Gaelic or Irish, from Old Irish broce "shoe." The footwear was "characteristic of the wilder Irish" [Century Dictionary], thus the noun might mean something like "speech of those who call a shoe a brogue." Or perhaps it is from the Old Irish barrog, meaning "a hold" (on the tongue).
Galore: 1670s, from the Irish go leór, and equivalent Scottish Gaelic gu leóir, meaning "sufficiently, enough," from the Old Irish roar, "enough". The particle go/gu usually means "to," but it is also affixed to adjectives to form adverbs, as it is here.
Gob: slang for "mouth" 1540s, from the Irish gob, meaning "mouth".
Hooligan: 1890s, of unknown origin, according to OED, first found in British newspaper police-court reports in the summer of 1898, almost certainly from the variant form of the Irish surname Houlihan, which figured as a characteristic comic Irish name in music hall songs and newspapers of the 1880s and '90s.
Leprechaun: c. 1600, from Irish lupracan, a metathesis of the Old Irish luchorpan meaning literally "a very small body," from lu ("little, small"). The variant leithbragan is probably Irish folk etymology, from leith ("half") + brog ("brogue"), because the spirit was "supposed to be always employed in making or mending a single shoe."
Sheila: The Australian slang for "woman" comes from the Irish name "Síle", the Irish equivalent of Celia, a shortened form of Cecilia, the feminine form of Cecil. A standard Irish women's name since 1828; slang for "girlfriend, young woman" dates from 1839.
Slew: meaning "large number" 1839, from the Irish sluagh meaning "a host, crowd, multitude".
Slogan: 1670s, earlier slogorne (1510s), "battle cry," from Gaelic sluagh-ghairm meaning "battle cry" used by Scottish Highland or Irish clans," from sluagh ("army, host, slew" — see slew above), from the Celtic and Balto-Slavic slough ("help, service"). Second element is gairm meaning "a cry".
Tory: Colloquial name for a member of the British Conservative Party: 1566, "an outlaw," specifically "one of a class of Irish robbers noted for outrages and savage cruelty," from the Irish toruighe, "plunderer," originally "pursuer, searcher," from the Old Irish toirighim ("I pursue") from toir ("pursuit") from Celtic to-wo-ret ("a running up to"). In about 1646, it emerged as a derogatory term for Irish Catholics dispossessed of their land (some of whom subsequently turned to outlawry); in c.1680 it was applied by Exclusioners to supporters of the Catholic Duke of York (later James II) in his succession to the throne of England. After 1689, Tory was the name of a British political party at first composed of Yorkist Tories of 1680. It was superseded in c.1830 by Conservative, although it continues to be used colloquially. As an adjective from 1680s.
Shamrock: 1570s, from Irish seamrog, the diminutive of seamar meaning "clover."
Whiskey: 1715, from Gaelic uisge beatha "whisky," literally "water of life," from the Old Irish uisce, meaning "water". Note that the spelling distinction between Scotch whisky and Irish and American whiskey is a 19th-century innovation.
***
And here are two words that are commonly thought to be of Irish origin but probably aren't:
Dig? Some people think the slang word dig — meaning to understand or "get it" — comes from the Irish tuig. However, read Frank McNally's dig into the word dig in the Irish Times a decade ago: it's a complicated subject, and probably not of Irish heritage after all.
Hillbilly? It's commonly thought that the pejorative term for people living in rural areas of the U.S., especially around the Ozark Mountains (Oklahoma, Missouri, Arkansas) and Appalachia, initially came from 18th-century Ulster Protestant settlers in the Appalachian Mountains. However, as Michael Montgomery argues in his From Ulster to America: The Scotch-Irish Heritage of American English: "In Ulster in recent years it has sometimes been supposed that it was coined to refer to followers of King William III and brought to America by early Ulster emigrants, but this derivation is almost certainly incorrect. … In America hillbilly was first attested only in 1898, which suggests a later, independent development."
* Don't worry: we've got the luck of the Irish on our side.
***