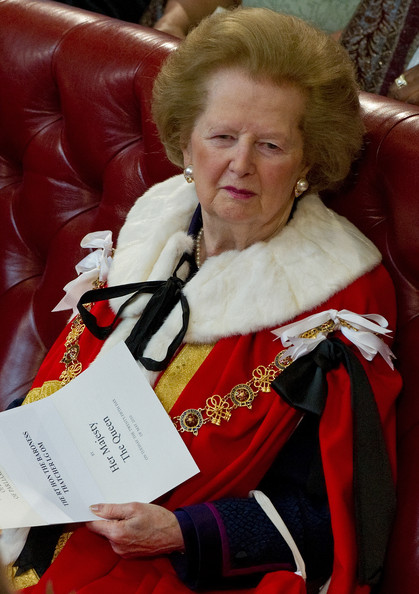 Whatever opinions we might hold about the former British Prime Minister who died this morning (and she probably was one of the most divisive prime ministers in living memory), it seems only fair that she should be referred to appropriately, according to the title that was conferred on her. In 1992, Margaret Thatcher was granted a life peerage as Baroness Thatcher, of Kesteven in the County of Lincolnshire.
This morning, the two most influential U.S. newspapers, reporting on Thatcher's death, are calling her simply "Mrs. Thatcher". The Wall Street Journal writes: "It is with great sadness that Mark and Carol Thatcher announced that their mother, Baroness Thatcher, died peacefully following a stroke this morning," said Mrs. Thatcher's spokesman, Timothy Bell. She was 87." It seems extraordinary that the newspaper's house style apparently prescribes the removal of honorary or conferred titles, even in the very same sentence that the title itself is quoted by her official spokesman. The New York Times clearly has a similar editorial policy: "Mrs. Thatcher's legacy, 'in most respects, is uncontested by the Blair government,' Mr. Young, her biographer, said in a 1999 interview." This must be a new policy on the part of the New York Times, since its 2010 review of composer Andrew Lloyd Weber's new musical in London referred to him appropriately, acknowledging the knighthood that was bestowed on him in the same year that Thatcher was granted her peerage: "Lord Lloyd-Webber's last international smash was, in fact, the first "Phantom"."
The English newspapers, when not referring to the Iron Lady just by her last name, respectfully use her correct title, which is either 'Lady' or 'Baroness':
"The first woman elected to lead a major western state, Lady Thatcher, as she became after the longest premiership since 1827, served 11 unbroken years at No 10.," The Guardian reports.  The BBC also recognizes her life peerage in its coverage: "Lady Thatcher was Conservative prime minister from 1979 to 1990. She was the first woman to hold the role."
We can trust Debrett's, "the modern authority on all matters etiquette, taste and achievement", to confirm and clarify how a baroness should be referred to and addressed. Indeed, its entry on baronesses ends with the example of Lady Thatcher herself:
"At present all peeresses in their own right are either countesses or baronesses. In the peerage of Scotland, the term Lady (ie Lady of Parliament) is the legal term of the fifth grade of peerage because the term "Baroness" is used in Scotland in a feudal sense relating to land tenure.
"A countess in her own right is addressed in the same way as an earl's wife, but a baroness, whether hereditary or life, has the option of two alternatives, 'Baroness' or 'Lady'.
"Since the Peerage Act 1963, and the growing numbers of female life peers, the use of the continental style of 'Baroness', both verbally and in writing, has become widespread. Most Baronesses in their own right, however, prefer to be styled 'Lady', and the same is true of a minority of Life Baronesses (for example Lady Thatcher)."
We'll give The Queen the last word on this, as I'm sure she knows how to talk about a baroness. As a Buckingham Palace spokesman said this morning: "The Queen was sad to hear the news of the death of Baroness Thatcher."