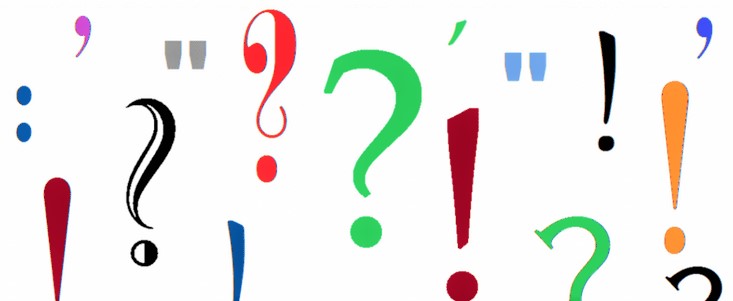 It's National Punctuation Day! To celebrate, Glossophilia is sharing Eric Nelson's poem about the punctuation mark we all love to hate; the one that probably suffers the most misuse, abuse and aggro in our daily verbal lives. It's like the viola of the punctuation orchestra: although it's the butt of everyone's jokes, and no-one really knows how to play it properly, we'd be so lost without it. Long live the long-suffering long-tailed apostrophe, and those that protect it fiercely from extinction.
Apostrophe to the Apostrophe
by Eric Nelson
Small floater, you stay above the fray,
a wink at nothing's nod, a raised brow
watching p's and q's, a selfless mote
between I and m, a little horn of plenty
spilling plurals, disdaining the bottom line.
Unlike your twin relatives—groupies of wit
and wisdom, hangers on in the smallest talk—
you work alone, dark of a crescent moon.
Laboring in obscurity, you never ask why,
never exclaim, never tell anyone where to go.
Caught up between extremes, you are both
a turning away and a stepping forth,
a loss and an addition. You are the urge
to possess everything, and the sure sign
that something is missing.
***
While we're on the subject of apostrophes, did you know that there is an Apostrophe Protection Society? It was started in 2001 by John Richards, now its Chairman, with the specific aim of preserving the correct use of this currently much abused punctuation mark in all forms of text written in the English language.
"We are aware of the way the English language is evolving during use, and do not intend any direct criticism of those who have made mistakes, but are just reminding all writers of English text, whether on notices or in documents of any type, of the correct usage of the apostrophe should you wish to put right mistakes you may have inadvertently made."

***
Source of poem: Poetry magazine