Can you guess which chart-topping song eventually enjoyed a popular French incarnation as "Bravo tu as gagné?" Or which famous songs started their commercial lives in French as "Le Moribond" and "Commes d'Habitudes" respectively? Do you know which two songs The Beatles decided to record and release in German? Read more about how these and other hit songs came to enjoy lives in multiple lingos …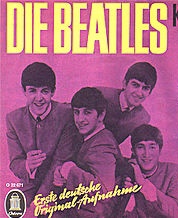 The Beatles went double-Deutsch in the mid-60s with a couple of their hits, at a time when it was common for artists to record unique versions of their songs for foreign markets. Executives from Odeon, their label at the time, persuaded the fab four that in order to penetrate the German market, the Beatles needed to record German versions of their biggest songs. And so it was that "I Wanna Hold Your Hand" and "She Loves You" were turned into "Komm gib mir deine Hand" and Sie liebt dich. Camillo Felgen wrote the German translations of Lennon & MCartney's famous lyrics; Felgen, who was credited under several of his pen names, took some big liberties with the original words. On 29 January 1964, during their only group recording session outside the UK, the Beatles recorded the songs at EMI's Pathé Marconi Studios in Paris. For "Komm, gib mir deine Hand" they overdubbed German vocals onto the original backing track of "I Want to Hold Your Hand". However, the two-track tapes of "She Loves You" from July 1963 had been erased after the master was made, so the band had to record "Sie liebt dich" entirely from scratch. Odeon Records released the German versions together as a non-album single in West Germany in March 1964.  After these recordings, despite their success in the German charts, The Beatles never again made foreign versions of their songs. The band's subsequent practice of releasing their songs only in the original English is credited with helping to spread the English language across Europe and the rest of the world.
***
David Bowie's album Heroes is regarded as one of Bowie's best and most influential works. It was recorded sporadically from July to August 1977, and most of the tracks were composed on the spot in the studio, the lyrics not being written until Bowie stood in front of the microphone. The title track, initially unsuccessful as a single, remains one of Bowie's best-known and acclaimed songs; Bowie explained the song is about "facing reality and standing up to it" and finding joy in life. For the German and French releases of the single, titled "Helden" and "Héros" respectively, Bowie re-recorded his vocals in both languages, with lyrics translated by Antonia Maass for the German release. The German version, "Helden", is widely known, but there were also Spanish and French versions.
***
ABBA's song "Ring Ring" was written in Swedish by Benny Andersson and Björn Ulvaeus, along with their manager Stig Anderson, with an original title of "Ring Ring (Bara du slog en signal)" ("Ring Ring (If Only You Called)"). Anderson then arranged an English translation of the lyrics by Neil Sedaka and Phil Cody, and in 1973 the group recorded the song in both Swedish and English (both versions were hugely successful in Sweden), as well as in German and Spanish. A few years later, Buddy McCluskey of RCA Records proposed that the group would achieve greater success in South America if they recorded one of their current hits in Spanish. With his wife, Mary, McCluskey put together the Spanish lyrics for "Chiquitita", and this version was released as a single in Argentina in April 1979. It stormed up the charts, hitting number one; within a few months the Spanish "Chiquitita" had sold half a million copies in Argentina alone, and was said to be the biggest hit in South America in 25 years. The following year, their hit song "The Winner Takes It All" was re-recorded (with Andersson and Ulvaeus on the backing track) by French chanteuse Mireille Mathieu, as "Bravo tu as gagné", with French lyrics by Alain Boublil. One of ABBA's early hits had got its start in the band's native language. Soon after the group formed, Frida Lyngstad released a solo album that included a Swedish rendition of "Fernando": it was a big hit on the Swedish charts before ABBA released the English version in 1975.
***
"99 Luftballons" is a song by the West German NDW band Nena from its 1983 self-titled album. An English-language version called "99 Red Balloons", with lyrics by Kevin McAlea, was released on the band's album 99 Luftballons in 1984 after the huge success of the original song in Europe and Japan. The English version isn't a direct translation of the German original, so its lyrics have a somewhat different meaning. As McAlea explained: "I played with a band who did a lot of concerts in Germany (Barclay James Harvest). Their manager gave me a tape with the German song on it and asked me if I could come up with a lyric. Nena had already tried themselves – they all speak pretty good English … Friends tried .. A University professor tried … They couldn't come up with anything that sounded good. … I took the tape and first thing I did was record my own backtrack. I asked a German-speaking friend what the general gist was and wrote the English version. I didn't really pay much attention to the meaning of the song as it had to sound good as a lyric in its own right. I think the mistake in the previous attempts was in trying to adhere to the original meaning. I was more interested in the sound the lyrics were making than anything else. … You may be interested to know that I really did write the lyric on the back of an old envelope! It was the first thing to hand." You can see both sets of lyrics here.
***
"She," by Charles Aznavour and Herbert Kretzmer, was released by Aznavour as a single in 1974. The song was written in English as a theme tune for the British TV series Seven Faces of Woman. Aznavour also recorded it in French, German, Italian and Spanish, under the respective titles "Tous les visages de l'amour" (English: "All the Faces of Love"), "Sie" (English: "She") "Lei" (English: "She") and "Es" (English: "[She] is"), respectively. He also recorded the song in a more up-tempo French version with different lyrics, titled "Elle" (English: "She").
***
"Call Me", by the American new wave band Blondie, was written as the theme song for the 1980 film American Gigolo. Produced and composed by Italian musician Giorgio Moroder, with lyrics by Blondie singer Debbie Harry, the song appeared in the film and was released in the US in early 1980 as a single. A Spanish-language 12″ version, with lyrics by Buddy and Mary McCluskey (remember them from ABBA's "Chiquitita" above?), was released on the disco label Salsoul Records. "Llámame" was recorded for release in Mexico and some South American countries. "Sunday Girl" is an earlier Blondie song, from the band's 1978 album Parallel Lines. Written by guitarist Chris Stein, the song was inspired by Debbie Harry's cat, who was named Sunday Man and had recently run away. Blondie recorded a French version of the track, which was released on the back side of "Sunday Girl" in the UK, France and the Netherlands.
***
"Seasons in the Sun" is an English-language adaptation of the 1961 song "Le Moribond" by Belgian singer-songwriter Jacques Brel, with lyrics rewritten in 1963 by American singer-poet Rod McKuen. The song portrays a dying man's farewell to his loved ones. It became a worldwide hit in 1974 for Canadian singer Terry Jacks and was a Christmas number one in the UK in 1999 for Westlife.
***
"My Way" was originally a French song, "Comme d'habitude" ("As Usual"), performed and released by Claude François in 1967. The Canadian singer and songwriter Paul Anka heard the song during a stay in France and rewrote it in English (not as a direct translation) for Frank Sinatra. Sinatra's 1969 version of "My Way" spent 75 weeks in the UK Top 40, and the song went on to enjoy memorable renditions by Elvis Presley, Sid Vicious and many others. It's thought to be the song most frequently played at funeral services in the UK.
***