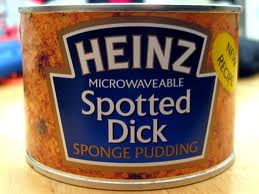 Originally posted in April 2011.
*
Here are some words and expressions you won't necessarily hear in New York City – unless you're loading up on Bisto at the fabulous Myers of Keswick, or chewing wine gums at the recently opened London Candy Company on Lexington Ave, or chowing down on bangers and mash at Tea & Sympathy, or scoffing spotted dick at the Chip Shop in Brooklyn …
I'll add definitions in a fortnight. Meanwhile, let me know if you can think of any more Englishisms that provoke such delight in American listeners and readers.
NB: it has just occurred to me that most of these slang words and expressions have quite negative connotations,  referring to undesirable characteristics, moods, or commands. A few exceptions are 'chuffed', 'dishy', 'morish' … and of course we all love a bit of how's your father.
any road (not meaning vague directions)
belt up (not fastening your seatbelt)
bloke
blow me (not what you might like to think)
bob's your uncle
boffin
bog off
bovver (spot of)
budge up
chuffed
dishy
faff
fagged
flog
fluke
fortnight
gen (up)
(big) girls blouse
gormless
(a bit of ) how's your father
jammy (adj.)
kip
knackered
(get your) knickers in a twist
morish
naff
nick / nicked
nouse
one off
pear-shaped (not describing your figure)
piece of cake (not what you eat)
pissed (not mad, angry)
plonk
porkies/pork pies (not what you eat …)
prat
rubber (not a condom)
sarky
shirty
skew-whiff
skint
skive (off)
slag (off)
sod / sod off / sod all
Sod's law
spend a penny (not what you do at Myers of Keswick – unless you ask very politely)
strop / stroppy
suss / sussed out
table (as verb; not removing it from the agenda)
take the mickey / take the piss
twee
ups a daisy
waffle (vb.; not what you eat for breakfast with syrup)
wangle
whinge
wobbly / wobbler (not what the Weebles do)
wonky
yonks
zonked
And here are some favorite English delicacies:
Chip butty
Spotted Dick
Bubble 'n' squeak
Bangers 'n' mash
Toad in the hole
Sticky buns