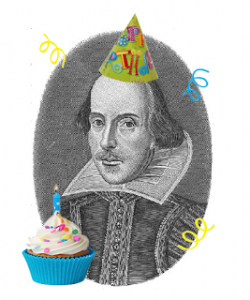 It's National Talk Like Shakespeare Day!* Please teachest me to speaketh like Shakespeare, I heareth thee cry. You probably do already: if you say things like "send him packing", "as good luck would have it", "more fool you", "neither here nor there",  "mum's the word", or "the be-all and end-all", then you're doing pretty well in the Shakespearean language department: he was responsible for either coining or popularizing all those phrases.  Anyway, has't no fear: Glossophilia cometh to the rescue, and we're about to guide you through your online toolkit of Shakespearean-speak gadgets. Among Glossophilia's favorites is Shmoop's own Shakespearean Translator, which is just like Google Translate: Type anything into the box and "see it translated into super-authentic Shakespearean English". Then there's the Shakespeare Insult Kit, whose author Jerry Maguire (sic) was or is an English teacher at Center Grove High School in Greenwood Indiana. You'll sound like a true Shakespearean villain when you hurl those concoctions out there. Another Glosso favorite is Shakespeare's Words Thesaurus: "This is the opposite of the Glossary. When consulting the Glossary, you know the word and you want to find out what it means. When consulting the Thesaurus, you know the meaning and you want to find out which Shakespearean words express it. How would he say 'arrogant' or 'companion'?'" Did you know that there's a William Shakespeare Glossary on CliffNotes? And one on SparkNotes too? There's a plethora of Shakespeare glossaries and dictionaries out there — and I mean plethora in its truest sense – to help you on your talk-like-Shakespeare quest. Here are just some of them …
Online Shakespeare Translator: Shakespeare's words are so different from the ones we use today. Alas, don't fret. Thy meaning will be obvious in just a moment. Have you ever tried an online Shakespeare translator? They're actually quite fun. You can turn any bit of everyday prose into the English of Shakespeare's day. Speak like the Bard in a couple of mouse clicks!
Shakespeare's Coined Words: Shakespeare, with the right and might of a true poet, and with his peculiar royal privilege as king of all poets, has minted several words that deserve to become current in our language. He coined them for his own special use to express his own special meanings in his own special passages; but they are so expressive and so well framed to be exponents of certain particulars in meaning common to us all, that they deserve to become generally adopted and used
Shakespeare Dictionary: A List of Troublesome Words: This is an extremely selective and personal dictionary of troublesome words I have found in Shakespeare's plays and sonnets. It is limited to words that have fallen out of use, OR whose meanings have changed over the centuries. "Power" is an excellent example of this second category; in Shakespeare, it normally refers to an army.
Absolute Shakespeare Glossary: the essential resource for William Shakespeare's plays, sonnets, poems, quotes, biography and the legendary Globe Theatre.
Absolute Shakespeare Quotes: William Shakespeare quotes such as "To be, or not to be" and "O Romeo, Romeo! wherefore art thou Romeo?" form some of literature's most celebrated lines. Other famous Shakespeare quotes such as "I 'll not budge an inch", "We have seen better days" ,"A dish fit for the gods" and the expression it's "Greek to me" have all become catch phrases in modern day speech. Furthermore, other William Shakespeare quotes such as "to thine own self be true" have become widely spoken pearls of wisdom.
The Shakespeare Glossary: Here you will find the meanings of old and unusual words used in Elizabethan England. If you need more information on a particular word or the context in which it is used, please see the play or sonnet in which the word appears for detailed annotations at the bottom of each page.
Shakespearean Glossary: Let's face it, no matter how many times your English teacher rambles on about how cool Shakespeare is, his stuff isn't too easy to read. We're not talking about a few funny words, like in Doctor Seuss – we're talking Elizabethan English (also known, funnily enough, as "Modern English"), which may as well be a different language! To help you get to the actual story behind those baffling words, Kidzworld's put together a cheat sheet for reading Shakespeare. Check it out!
Shakespeare Insults Dictionary: contains Shakespearean Phrases – A vast selection of phrases used by Shakespeare as insults and the Play where they can be found!
Shakespeare's Words Glossary: If you are looking for a word and it doesn't appear in the Glossary, this will be because it has the same sense in Modern English, and can be found in any general dictionary. We only include words that no longer exist in Modern English, have changed their meaning since Shakespeare's day, or have an encyclopedic or specialized sense that would make them unfamiliar to many modern readers. Under this last heading, we include all the proper names (such as figures in classical mythology and local place-names) listed in our Themes and Topics (see Starting Points above).
ShakespeareHigh.com: A site devoted to students, teachers, actors, scholars, and fans of Shakespeare's works.
Enjoyeth the day!
* Born on April 23, 1564, William Shakespeare was a famous writer. 🙂
***